Can you answer "Yes" to all of the following?
We have documented role descriptions for each key job function

For each role description we have identified the skills necessary for success

Each skill is defined and varying levels of the skill are identified

We have mapped the skill levels needed to each role description

Each skill identified is linked to a curriculum for building proficiency

A tool exists allowing the employee and manager to assess the employee's skills

That tool identifies gaps between current and desired skill ratings

The gaps drive training and development action plans

Action plans are executed and monitored on a scheduled basis
Is your current training being driven by a strategic look at the skill gaps in the organization?

Are the skill gaps quantified and progress tracked?
If not, JCG can help ensure you maximize your investment in human development with a streamlined seven-step Professional Development Process.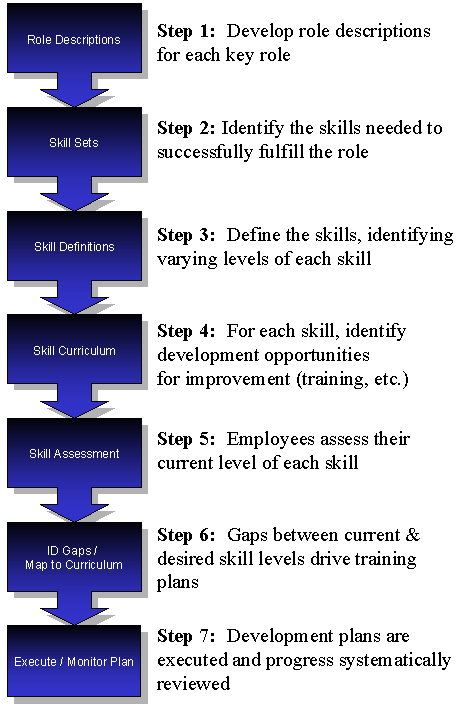 JCG partners with your organization to implement the right level of process for you - starting with where you are today and helping drive toward the goal state.
Sound Bytes: Some unique ways JCG consultants have helped others . . .
In one organization, mapped the roles and skills for quality personnel. Designed a curriculum to address each skill set.

Created a web-based on-line "quality university" for 200 worldwide quality professionals. Mapped to specific skill sets, it provided access to on-line and classroom courses, books, videos, and other curriculum material.

Created an internal certification program - providing recognition for the professional development of staff and field personnel. Included internal certification exams and aid in preparing for external certifications.

In support of the certification program, designed a web-based knowledge capital system that captured and shared best practices and lessons learned.

Designed and developed an assimilation program for new quality personnel.

In a post-merger organization, assisted a 1200-person division in deployment of the new values and vision. Included a process, management toolkit, and software for 360-degree feedback.
© 2002-2015 The Jeff Cole Group, Ltd.